What is Optional Practical Training?
Optional Practical Training (OPT) is an opportunity for hands-on work experience in the U.S. related to your program of study. It is a work authorization granted by the United States Citizenship and Immigration Services (USCIS). There are two types of OPT:
Post-Completion OPT: This is the type of OPT most F-1 students use. It is available after you complete the course requirements for your degree, but you should apply before graduation. In general, you will be authorized for 12 months.
Pre-Completion OPT: Part-time OPT is available before you graduate, but a better option for working off campus is Curricular Practical Training (CPT).  If CPT is unavailable to you and you want to learn more about pre-completion OPT, make an appointment with an OISS advisor.
OPT Eligibility
You do not need a job offer to apply for OPT. You must complete at least two semesters as a full-time student to be eligible for OPT. This also includes students who were enrolled in a study abroad program, provided they were enrolled for one full academic term in the U.S. prior to studying abroad.
You are eligible for 12 months of post-completion OPT for each degree level you complete, as long as each degree is at a higher level than the previous degree. For example, you are eligible for OPT after completing a bachelor's degree, and you are eligible for OPT again after completing a master's degree. You are not eligible for OPT twice in the same degree level, so if you earn two master's degrees at different times, you can only apply for OPT based on one of the master's degrees. You must use your OPT opportunity when completing each degree level; you cannot save the OPT time and use it later.
If your major field of study is in a science, technology, engineering, or a mathematics (STEM) field, you may be eligible for a STEM extension of OPT.
Applying for OPT
The earliest you can submit your OPT application to the USCIS is 90 days before your program end date, and we strongly encourage you to apply as early as possible. The latest you may submit your application is 60 days after your program end date, but due to USCIS processing times this will result in you losing some of the 12 months of time you can work under OPT.
For PhD Students: In circumstances where you will complete all course requirements much earlier than your degree conferral date, you may consult with your academic advisor to request an earlier program end date. Please schedule an appointment with your OISS advisor to determine the best possible OPT start date.
The OISS will first help you prepare your OPT application, and you will choose to either e-file your application by creating a myUSCIS account, or you can physically mail it to them. The USCIS can take 3-5 months to process your application.
You decide your OPT start date as part of your application. You may choose any date between your program end date and up to 60 days after your program end date. This is an important decision: If you already have a job offer with a specific start date, you should choose this start date. If you are applying close to your program end date, or if you think you will need time to move or look for jobs, you should choose a later start date to give yourself time. Once your OPT start date arrives, your 12 months of OPT begins.
Start the OPT Application Process Here - OPT I-20 Request E-Form
To complete the OPT Request E-Form above, you will need to gather the necessary documents in PDF format:
Academic Advisor's Certification Form for OPT. You must complete the top portion of the form and your academic advisor must complete the bottom portion. Remember that the program end date on your I-20 is an estimate and you will use this to meet with your academic advisor to obtain your actual program end date.
Your I-94 (visit CBP's website to print).
Passport page that has your photo and passport expiration date.
Previous I-20's where CPT or OPT were authorized, or a different SEVIS ID number was used.
Any previous EAD card(s) (only applicable if you have applied for employment authorization or OPT in the past.)
Credit card payment receipt for $140.00 to Tulane University. Please use this link to complete payment.
U.S. passport size photograph with a white background, taken in the last 30 days. No glasses are allowed and pictures must not have been used for a previous passport or visa application.  For more information about acceptable photos, visit The Department of State's website. 
You also need to know whether you will want to e-file, or physically mail-in your application. OISS staff will review and finalize your application, and contact you via e-mail when the application is ready to be submitted to the USCIS. In general it takes the OISS about 5 - 10 working days to review your OPT application.
The OPT application fee for the USCIS is $410. If you choose to e-file your application you can play that fee online. If you chose to physically mail your application then you can pay with a check (see sample below), money order, or a U.S. based credit card through form G-1450. There is an additional fee of $140 for Tulane University, to provide OPT application processing and continuing immigration support after you graduate. The Tulane fee is only payable by credit card.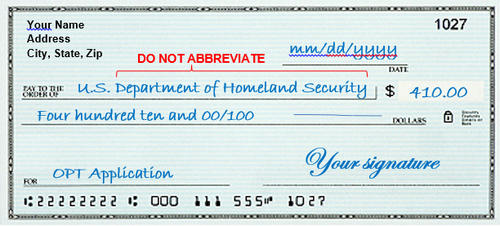 Important: You must be physically present in the U.S. to apply for OPT. If you have not applied for OPT and leave the U.S. after your program end date, you lose your F-1 status and ability to apply for OPT. 
Remember that you can also call the OISS to inquire or make an appointment if necessary.
After Applying for OPT
After you submit your OPT application to the USCIS, the OISS will receive your Employment Authorization Document (EAD) card and other OPT-related mail. We will email your Tulane email account when we receive this mail, so make sure to check it regularly after you apply.
USCIS processing time varies from 3 to 5 months. Once you have received your USCIS receipt notice, you can check the status of your application at www.uscis.gov. If your application has been pending for more than 90 days, email oiss@tulane.edu.
Until your program end date you are still an active F-1 student, and you can travel normally. After your program end date, additionally to all your immigration documents, you must also have your EAD card and proof of employment to re-enter the U.S.
The OISS remains your immigration support for the duration of your OPT and the 60-day grace period after your OPT end date. Contact us if you need assistance.
Working under OPT
You must have your EAD card in hand before you begin any work under OPT. You cannot work before the start date or after the end date printed on your EAD card. Please check the start and end dates on your EAD card when you receive it, because the USCIS sometimes adjusts your requested dates.
You must work a minimum of 20 hours a week, and your work must be related to your major field of study. If you have questions about whether a job is related to your field of study, it is best to consult with your department advisor. You may have multiple employers under OPT.
OISS has compiled a list of employers that have hired Tulane international students who have obtained work authorization via CPT or OPT. You can access that list here.
You are allowed up to 90 cumulative days of unemployment under OPT. If you exceed 90 days of unemployment your F-1 status may be automatically terminated in SEVIS.
OPT Reporting Requirements and the SEVP Portal
The SEVP Portal is a tool that lets F-1 students on OPT report personal and employer information to the Student and Exchange Visitor Program (SEVP). You must report directly to the portal within 10 days if you change your current address, e-mail, phone number, or start/stop employment, to maintain your status.
After your OPT application is approved AND the OPT authorization is active, you will get an invitation email within a few days from do-not-reply.SEVP@ice.dhs.gov. When you create your account, you will be asked to enter your SEVIS ID number and create a password. You can find your SEVIS ID in the top left corner of your Form I-20.
Within 90 days of the start date of your EAD you must be employed and your employment must be updated in SEVIS.  If you are approaching that date and are not employed, you should prepare to leave the country unless you qualify for other immigration options.
Below is the information you will need to report directly to the portal if any of it has changed:
Employer name
Employer address
Your title in the company
Start date at your current job
End date at your prior job (if you had a prior job under OPT)
Explain how your employment relates to your field of study
How many hours are you working each week at this job?
Your full legal name (If you have had a legal name change, you must also e-mail oiss@tulane.edu to inform us.)
Your current U.S. address (Include apartment # if you have one; No P.O Boxes)
Your current U.S. phone number
Your personal email address 
Explaining how your employment relates to your field of study:
As a student in F-1 OPT you are responsible to only engage in practical training opportunities that are directly related to your major area of study. You must also provide a written description of how your practical training opportunity relates to your major in the SEVP Portal.  It is best to include your job tasks in the description, as seen in the example below. If it is not clear from the job description that the work is related to your degree, SEVP highly recommends that you obtain a signed letter from your supervisor or manager or the employer's hiring official stating how the degree is related to the work performed and provide a copy to OISS for record keeping.
Sample explanation of a direct relationship:
Bachelor's degree in Business: I work full time as a Loan Officer at a mortgage company, Happy Homes, where I meet with clients and evaluate, authorize and recommend approval of loan applications. On a daily basis, I use the knowledge I gained in my credit analysis, sales and marketing classes that I took as part of my major program of study.
Master's degree in Music: I am working at a hospital playing the harp in patient rooms. I also conduct harp-on harp beginner workshops for long-term patients. On average, I work at the hospital 35 hours a week. My duties directly utilize skills and knowledge I acquired from my coursework and degree in music therapy.
PhD in Computer Science: I am employed as a Computer and Information Research Scientist at ABC Research Institute.  I work as part of a team of scientists and engineers that designs experiments to test the operation of various software systems. My work builds on research in complex algorithms and machine learning, which I studied as part of my dissertation.
Termination/Failure to Report/Completion of Records
On August 2020 SEVP conducted a review of immigration records and mailed out physical notices directly to students who had not reported employer information and exceeded 90 (Post-Completion OPT)/150 (STEM OPT) days of unemployment. If students did not report within 15 days of the notice date, SEVIS would terminate their records. The termination reason is for exceeding the permissible periods of unemployment while on OPT, and it would be noted on the record which could potentially impact immigration benefits in the future. You can read our September 8th communication with more details here.
Due to this change in procedure from SEVP, OISS will complete records of students who abandon their OPT. In other words if you are reaching the end of your 90/150-day unemployment limit, have not been able to find employment, are planning to leave the US, change statuses, or any other situation that would imply you are no longer going to continue your OPT, please let us know immediately so that we can determine whether we need to complete your record, and so that you can avoid a potential auto-termination in the future.
Travel on OPT
If you leave the U.S. under OPT, you will need the following to re-enter:
Valid passport with a valid F-1 visa
I-20 with travel signature no more than 6 months old on the date you re-enter
EAD Card
Proof of employment, such as a letter from your employer or your employment contract
I-901 SEVIS fee receipt (print at www.fmjfee.com)
If you require a new I-20 travel signature, email oiss@tulane.edu at least two weeks advance to allow enough time to mail the document to you.
OPT Frequently Asked Questions (OPT FAQ)
Applying for a Social Security Number