Scams Targeting International Students
The United States Department of Homeland Security continues to see an increase in the number of scams targeting unsuspecting international students.
They contact their targets in different ways, often by making threatening phone calls or leaving intimidating messages on social media. Students should be aware that a government agency would never contact them by telephone to demand immediate payment and would never request that the student wire money for immediate payment.
More information can be found on the Study in the States website regarding scams targeting international students.
Tips for if You Are a Victim of a Scam*
STOP: If you are being asked or feeling pressured to give information or send payment, stop!  Check the legitimacy of the request before taking action.
COLLECT CALLER INFORMATION: Ask for the person's name (proper spelling), agency/ office, contact information, and details about the request.  They say you need to follow up with your institution first and hang up.
ALERT AUTHORITY: Contact the OISS or TUPD to help you determine if this is a real request.
MAKE REPORT: OISS or TUPD can  help you determine the best way to report a scam. reports may be made to the police, government agencies, Tulane's IT office, etc.
Tips for Protecting Yourself
Don't enter online contests or surveys.
Never give personal information over the phone when you did not make the call.  Keep your personal information (address, birthdate, social security number, email address, login information, etc) private.
Be careful of phishing where you receive an email asking you to verify personal information.  
Be cautious of caller ID. Scammers can mimic real numbers. Report caller ID spoofing to the Federal Trade Commission at 1-888-225-5322.
Don't give into pressure to take immediate reaction or suffer a consequence even if the caller may appear to be the United States government, the F.B.I, Customs and Border Protection, the Social Security Administration, the Internal Revenue Service.  None of these offices will ever call you demanding money, personal information immediately over the phone.
Don't give into pressure to take immediate action including notice of winning unsolicited prizes or vacation packages.
Contact OISS or TUPD  when receive a suspicious or concerning call.  (Get caller name and badge or ID number, phone number and tell them you will call them back.)
If you lost money due to the scam, you should contact TUPD or NOPD to file a police report.

Please read below for recent scam reports.
September 2022: FBI Reports of Telephone-Based Scams Targeting Chinese Citizens at U.S. Universities
Reporting indicates that scammers target students using spoofed phone numbers showing the call is originating from government agencies, including immigration offices and the Consulate General of the People's Republic of China.
The scammer claims there is evidence the student is involved with a crime, often involving drug trafficking, human trafficking, or smuggling, and the student must pay a fine or surrender their money for investigation. 
Students should be aware of unsolicited phone calls from individuals claiming to be from government agencies, and independently verify the authenticity of communications. Authenticity should be verified through a known and trusted avenue, such as independently calling the organization or visiting the organization's physical location. Since scammers spoof phone numbers to make it appear they are calling from legitimate organizations, searching the phone number online or relying on caller ID are not sufficient means for verifying authenticity. 

Students should be cautious of anyone requesting they provide personally identifiable information, financial information, or money. Scammers will use threats in an attempt to coerce students into quickly providing personal details. If a student suspects the call is legitimate, the best step is to ask for the caller's name, hang up, and call the agency using an authenticated phone number to verify the claims. 

Unlike a legitimate government agency, scammers often demand payment by wire transfer, gift card, or virtual currency. These forms of payment are difficult to track and almost impossible to recover. A legitimate government agency will never initiate contact with a student and demand immediate payment. 

If  you are a victim of this scam, report it to the TUPD, the FBI's Internet Crimes Complaint Center (IC3) at www.ic3.gov, and the U.S. Federal Trade Commission (FTC) at www.ftc.gov. 
July/ August 2022: Rental Application Scams
Students and staff are reporting being asked to pay a fee to view an apartment.
After paying the fee with an application, there is no apartment.
If  you are a victim of this scam, report it to the TUPD.
Summer 2022: Multiple supposed Tulane jobs that pay $500 per week
Multiple reports of similar scam emails have been made in the last month.
Do not open or click on any link in email.
If you receive such a communication, report it to Tulane by forwarding to security@tulane.edu.

Fall 2021: Increased students falling victim to phone and internet scams
Callers often pretend to be from law enforcement and threaten the victims with arrest or deportation to convince them to transfer money or disclose personal information. 
See more details in December 2 communication.
September 2020: We have heard reports of employment services scams.
A graduate student in their final semester at Tulane paid a fee to a company that was supposed to include advising on 

ca

reer services, provide training and support finding internships.
The company has not provided the services.
Find more about Employment Services scams here.
June 2020: Across the country, international offices have heard of scams involving ICE officers threatening deportation to their international students and scholars.  
No ICE officer with threaten deportation over the phone or by email.
No ICE officer will demand personal information (bank account, address, credit card, social security number) in a threatening manner.
May 2020: Across the country there is an increase in COVID-19 scams.  For more information visit the Federal Trade Commission website here.
Don't respond to texts, emails or calls about checks from the government. Here's what you need to know.
Ignore online offers for vaccinations. There are no products proven to treat or prevent COVID-19 at this time.
Be wary of ads for test kits. The FDA recently announced approval for one home test kit, which requires a doctor's order. Most test kits being advertised have not been approved by the FDA and aren't necessarily accurate.
Hang up on robocalls. Scammers are using illegal robocalls to pitch everything from low-priced health insurance to work-at-home schemes.
Watch for emails claiming to be from the CDC or WHO. Use sites like coronavirus.gov and usa.gov/coronavirus to get the latest information. And don't click on links from sources you don't know.
Do your homework when it comes to donations. Never donate in cash, by gift card, or by wiring money.
September 2019: Multiple reports of a scam involving the Social Security Office and have been reported.  See all of the information from the Federal Trade Commission as well as hear the actual phone call here.  
Here are some of the details from that release:
"We've seen a new twist on the Social Security Administration (SSA) scam recently. Check out this SSA imposter robocall, which says your benefits will end. (That's not true, by the way.)

If you get a call like this, do not press 1. Instead, just hang up and remember:
Your Social Security number is not about to be suspended.
The real Social Security Administration will never call to threaten your benefits.
The real SSA will never tell you to wire money, send cash, or put money on a gift card.
The Social Security Administration scam is the number one scam reported to the FTC right now. People filed nearly 73,000 reports about Social Security imposters in the first six months of 2019, with reported losses of $17 million. (You can explore the data about imposter scams and losses at ftc.gov/exploredata.)
So if you're getting these calls, you're not alone. Tell your friends and neighbors about this scam."
Learn about a scam involving the Internal Revenue Service.  Watch the informative video below that shows how scammers trick you into paying them.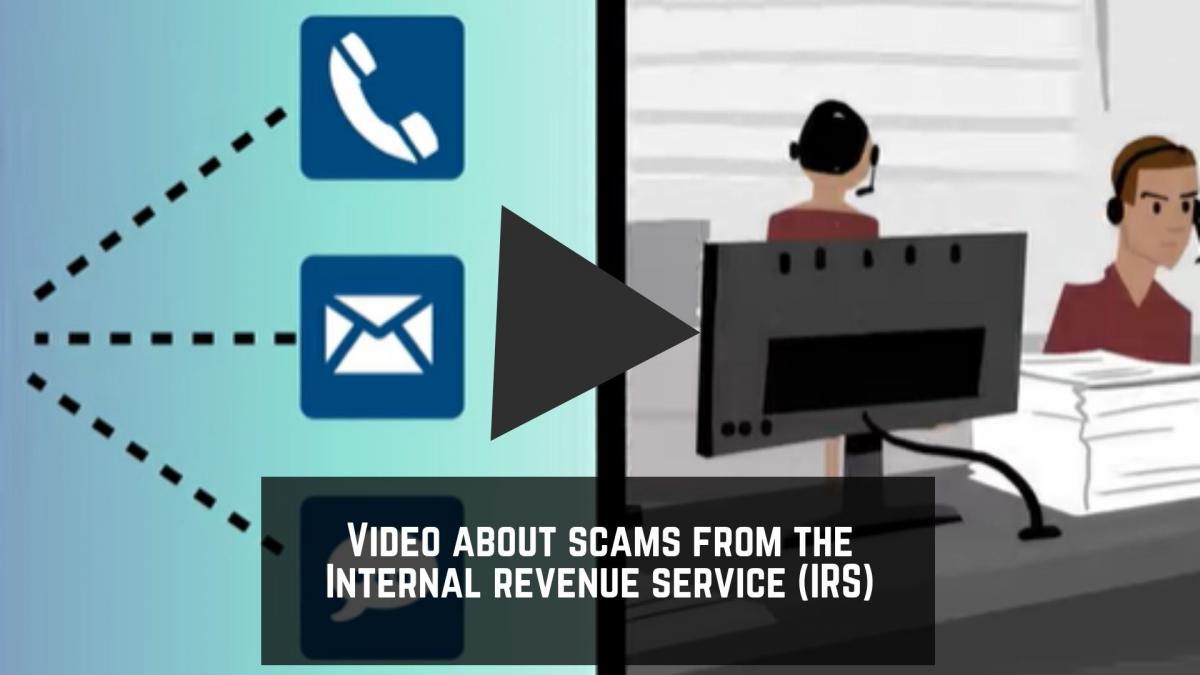 A scam was reported in April 2017 from the Department of Homeland Security Office of Inspector General. Please see the press release (PDF) for the details on this fraud alert.
Here are some of the details from that release: "The perpetrators of the scam represent themselves as employees with "US Immigration" and can alter caller ID systems to make it appear that the call is coming from the DHS OIG Hotline telephone number (1-800-323-8603). The scammers demand to obtain or verify personally identifiable information from their victims through various tactics, including by telling individuals that they are the victims of identity theft. Many of the scammers reportedly have pronounced accents.
DHS OIG takes this matter very seriously. While we investigate the situation, we would like to remind the public that DHS OIG never uses its Hotline number to make outgoing calls — the phone line is only used to receive information from the public. Individuals should not answer calls purporting to be from 1-800-323-8603, and should never provide personal information during calls purporting to be from the DHS OIG Hotline."
* From Task Force on Scams Targetting Internationals, Houston Area Forum of International Educators