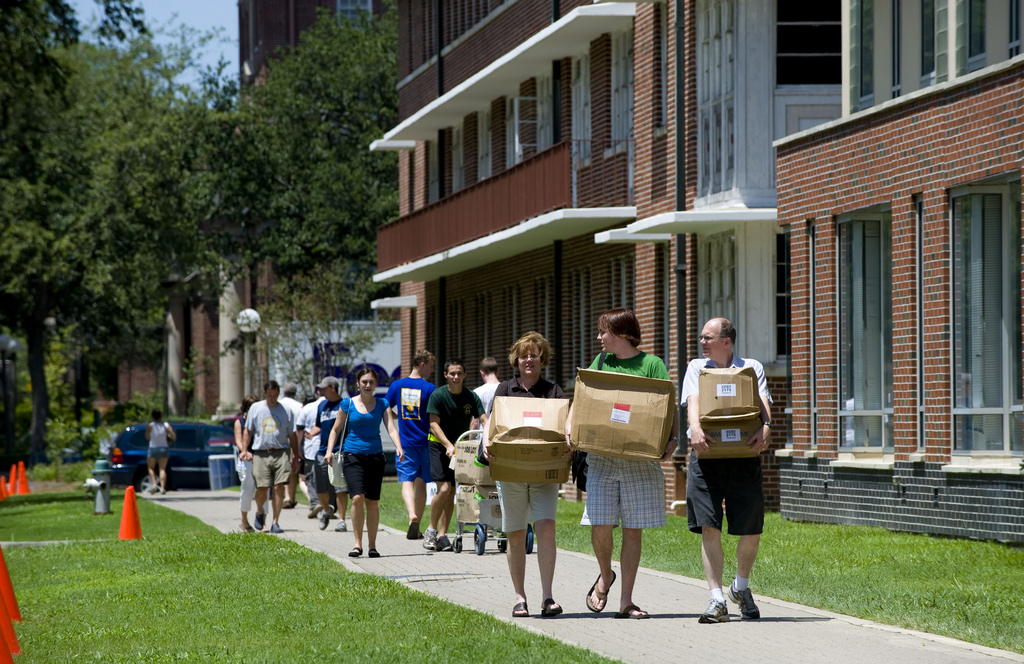 Family and Dependents of F-1 and J-1 Students
We understand that coming along with your spouses/partners means that you need additional information and resources. We strive to provide you with the support you need and hope to create an environment where you and your partner/spouse can connect, learn and grow. If you are already well aware of the immigration requirements or have already completed them, you can find more family support resources here.
Inviting Family Members: Tourist Visa
Many students are visited by family members such as parents, cousins, aunts and uncles or friends who do not qualify as dependent of a student in F-1 or J-1 status. One good example of this is during holidays or for the student's Tulane commencement. These types of family members and friends are not eligible for dependent visas, but may be able to visit you using a tourist visa.  Be aware that tourist visa applicants are judged on their own merit and usually on ties to their home country.  Ties usually include:
Owning property
Family members living in the home country
Employment
Bank accounts
OISS recommends that students contact the U.S. Consulate or Embassy where they will be requesting the tourist visa to be certain of the documentation that is recommended. 
Sponsoring Family
Dependents are legal spouses or unmarried minor children under the age of 21.  Dependents must possess a I-20/DS-2019 in order to enter the U.S.  Children born in the U.S. are not considered dependents in this context.  Domestic partners are not eligible for dependent status but may apply for B-2 visas.  
Dependent family members hold F-2/J-2 status. In order to qualify for dependent status, individuals must establish to the satisfaction of the officer at the U.S. consulate and the immigration officer at the port of entry that: he/ she intends to leave the U.S. upon completion of your F-1/J-1 status. Each F-1/J-2 dependent must be in possession of his or her own original I-20/DS-2019. Dependents in F-2 or J-2 status may accompany the principal F-1 or J-1 student, to the U.S. or follow to join you at a later date.
To request an I-20 or DS-2019 for a dependent: 
Provide the OISS with a scan of your dependent's passports and proof of financing.
A new I-20/DS-2019 will be issued to you as well as to each dependent which will show the dependents as well as their additional finances.
If your dependents are currently in the U.S. on their own visas, they will need to process a change of status form to the U.S. government.
If your name has changed due to marriage, please update your passport to reflect the change.  Once your passport is updated, OISS will change your name on your I-20/DS-2019 .
For any other situation, please make an appointment with an advisor at the OISS.
F-2/J-2 Dependent Living expenses
Dependent Spouse  $5000
Dependent Child      $3000
Evidence of these additional funds will need to be presented at the U.S. Consulate. Graduate student funding, (RA/TA) will not entirely cover dependent expenses. 
Important Information for F-2 Dependents
Employment: F-2 dependents are not eligible to work in the U.S., they are also not eligible to obtain a Social Security Number.
Studying: F-2 dependents may study part time at the postsecondary level in any certified program at an SEVP-certified school, as long as the study does not amount to what regulations define as full time for an F-1 student [defined in 8 CFR 214.2(f)(6)]. F-2 dependents may also study full time in avocational or recreational studies, such as hobbies. Please make sure that you check with the OISS before partaking in any such activities.
F-2 minor children are eligible to enroll in full-time studies in elementary or secondary schools. 
Travel: F-2 dependents are not required to travel with the primary F-1. However, the F-2 dependent must carry the following documents required for re-entry to the US:
Valid Passport (valid for at least six months before expiry).
Valid F-2 visa in passport (except dependents from Canada).
F-2 dependent I-20 with a valid travel signature from OISS on page 2 (signatures are valid for one year unless primary F-1 is on OPT, then it's only valid for six months).
If the primary F-1 is on OPT, the travel signature on the dependent's F-2 is only valid for six months. Additionally, we suggest that you carry a copy of the primary's EAD card in case it is requested at the port of entry.
F-2 dependents are able to remain in the US without the F-1 as long as the F-1 maintains status.
F-2 dependents are required to keep their passports valid at least 6 months into the future.
Important Information for J-2 Dependents
J-2 dependents can apply for an Employment Authorization Document (EAD) from USCIS in order to be employed in the United States. The J-2 may begin employment only after receiving the EAD from USCIS.
A J-2 dependent's status is valid only if you maintain status. Though the regulations do not define the amount of time and J-1 student can be outside of the U.S. without affecting the status of the J-2 dependents who remain in the U.S., such periods of separation should be brief.
J-2 dependents have no regulatory restriction on study.
If the J-1 principal participant is subject to the 212(e) 2-year home country physical presence requirement, his or her J-2 dependent spouse and children are automatically subject to that requirement as well.
Waivers for J-1 exchange visitors cover J-2 dependents, unless those dependents have a separate home residence requirement based on their own previous J-1 status
Resources for Dependents During Your Stay at Tulane University
Shuttle Card
International students and scholars in F-1, J-1 and H-1B status may take their dependent F-2, J-2 and H-4 spouses/ partners to get a shuttle ID card so that they may ride the Tulane Shuttle unaccompanied.
Procedure for applying for dependent Shuttle ID card:
The Tulane student or scholar should accompany the spouse to:
1440 Canal Street, Room 802
9:00 am- 12:00 PM and 1:00 PM- 4:00 PM
The Principal should bring: Splash Card, I-20 and passport.
The Dependent should bring: I-20 and passport.
If any documents are missing, no shuttle ID will be issued.
Programming
The Office of International Students and Scholars and a variety of other affiliated offices provided programming for international students and scholars and their families.  
Contact the Office of International Students and Scholars to learn more
Please e-mail the OISS at oiss@tulane.edu. We will add you to our listserv for dependents. You will receive communications about upcoming events, ways to volunteer and resources to help you settle into life in the United States.